Approximately 18 million Americans experience obstructive sleep apnea (OSA), a sleep disorder that can cause serious problems such as excessive daytime sleepiness and fatigue, memory loss and lack of concentration. These individuals have an increased risk of heart disease, stroke and high blood pressure.
Continuous Positive Airway Pressure (CPAP)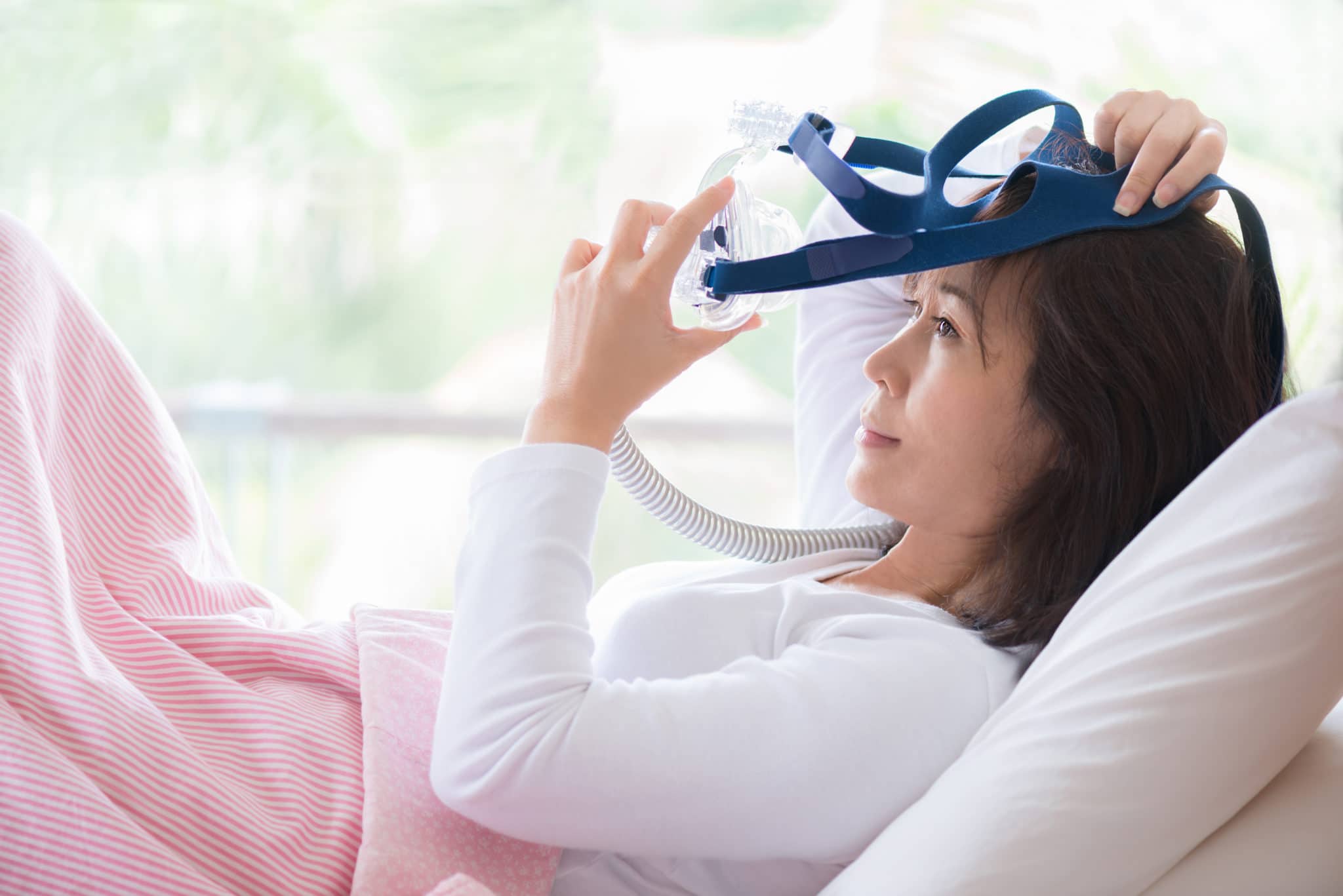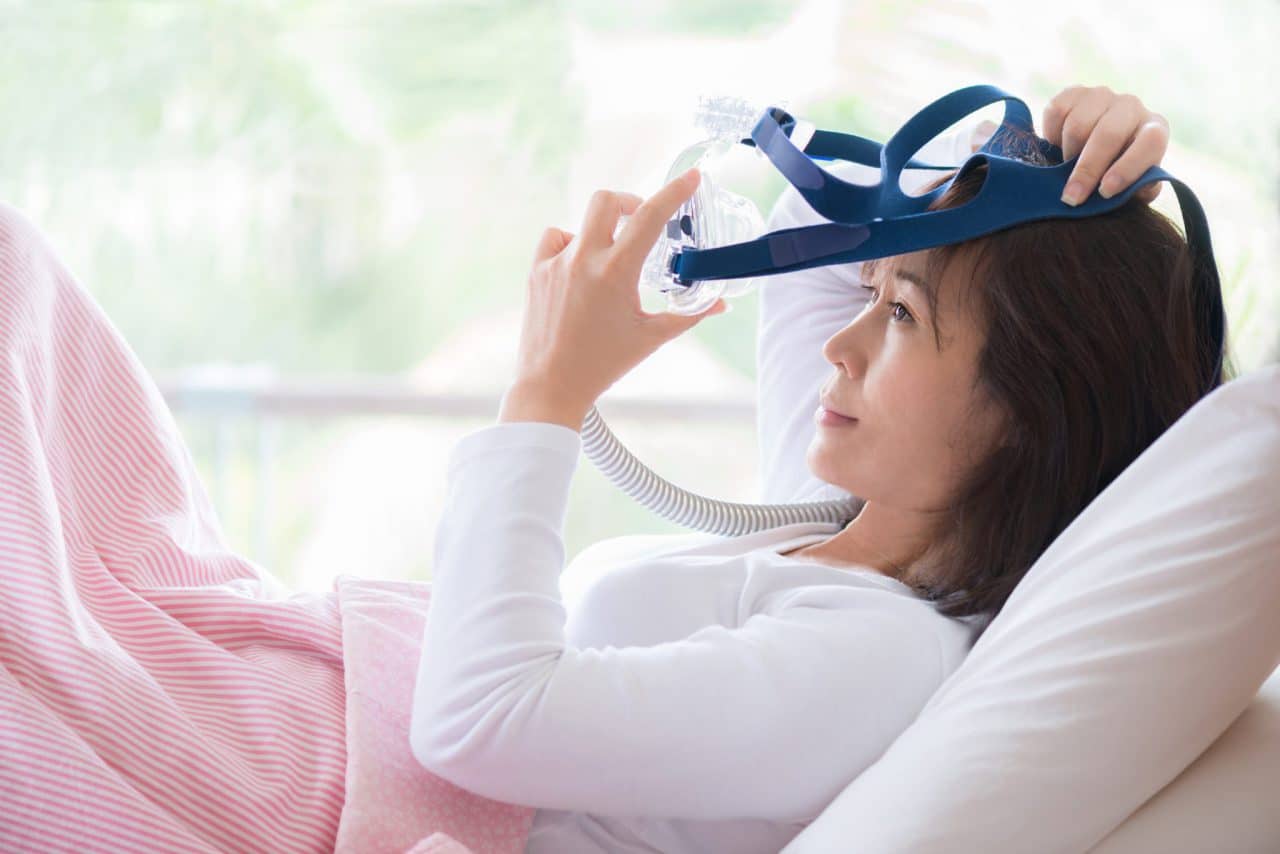 The most popular type of treatment for obstructive sleep apnea is the CPAP (continuous positive airway pressure) device. This machine utilizes a face or nasal mask connected to a pump, which provides a positive flow of air powerful enough to keep your airway passage open. The device must be worn every night to be effective.
While some find it inconvenient and uncomfortable, the results are typically instantaneous and worth the discomfort. Both machines and masks are available in a variety of styles and sizes, which can be geared toward your individual needs. Some people benefit from a nasal mask that covers the nose, while others require a full-face mask that covers both the nose and mouth.
Nasal pillows, consisting of soft silicone tubes that are placed directly in the nostrils, are another popular option. An optional humidifier can help prevent nasal irritation and drainage by providing a steady flow of heated and moisturized air.
A number of alternative PAP devices are available. Autofiltrating positive airway pressure (APAP) automatically increases or decreases air pressure throughout the night as needed. Bi-level positive airway pressure (BPAP) devices increase the pressure level when the people breathes in, and decrease it when they breathe out. These machines often help individuals who have trouble with the basic CPAP device.
Oral Appliances
While continuous positive airway pressure (CPAP) therapy is the preferred method of treatment, not everybody is able to tolerate sleeping with a mask attached to a machine that delivers bursts of air to the throat. Oral appliances are an alternative for these patients. They work by either moving the lower jaw forward to keep the airway passages open or holding the tongue in place to prevent it from falling backward and blocking the airway.
Oral appliances may be either fixed or adjustable and are available in many different styles with as many as 40 different patents in existence. Some are custom designed to fit the individual's mouth after impressions are made and must be prescribed by a dentist, oral surgeon or ENT physician with sleep medicine experience. Others are considered one-size-fits-all.
There are several advantages to using oral appliances over other sleep apnea treatment methods. They are easy to use, inexpensive and effective for treating a number of sleep disorders including snoring, upper airway resistance syndrome and obstructive sleep apnea. They are easy to insert and remove and tend to have higher compliance rates than CPAP. Younger patients who have to moderate sleep apnea, lower BMI and smaller neck sizes are most likely to see positive results from oral appliances.
Inspire
Inspire is an implantable device, similar to a pacemaker, that monitors your breathing patterns while you sleep. It delivers mild stimulation to the nerve that controls movement of the tongue and airway muscles, keeping the airway open and preventing OSA. The device contains three parts: a small generator, a breathing sensor lead and a stimulation lead. Patients use a small handheld remote to control the device, turning it on or off and pausing it during the night if needed. The stimulation is typically painless, and its strength can always be adjusted using the remote if needed.
The Inspire device is implanted during an outpatient surgical procedure using general anesthesia. It is placed beneath the skin of the neck and chest via three small incisions. Most patients recover fully from surgery within a couple of weeks.
A recent three-year study concluded that many patients noted significant improvements in their quality of life and daytime functioning abilities. Seventy-eight percent of patients experienced a reduction in OSA, and 80 percent reported soft or no snoring.
Candidates for Inspire must have been diagnosed with moderate to severe OSA and are unable to benefit from PAP therapy. They must not be significantly overweight.
Radiofrequency Ablation
Base of tongue ablation, also known as radiofrequency ablation (RFA), is a minimally invasive surgical procedure in which small amounts of targeted energy are directed at the base of the tongue or palate in order to tighten and reduce tissue.
This prevents the tongue from blocking the airway during sleep, a frequent cause of snoring and obstructive sleep apnea. Normally an outpatient procedure, the surgery is quick – usually lasting no longer than three minutes – and requires no more than a local anesthetic. Patients who undergo RFA report less postsurgical pain and a faster recovery period compared with other surgeries used to treat obstructive sleep apnea.
Following the base of tongue ablation, the patient will have less daytime sleepiness, a reduced risk of health complications such as heart disease and stroke, and improved memory and concentration. Their risk of being involved in an automobile accident drops, as well. RFA is an effective alternative to CPAP for patients with mild to severe obstructive sleep apnea, with many studies showing no discernible difference in improvement rates between both treatment approaches. If you've been diagnosed with obstructive sleep apnea and cannot tolerate CPAP therapy or prefer a less-invasive solution, a base of tongue ablation may be just the option you are looking for.
Somnoplasty
Somnoplasty is a surgical procedure for treating snoring and obstructive sleep apnea. It works by shrinking tissue in the upper airway, including the uvula, soft palate or base of the tongue using radiofrequency energy. This enlarges the throat and nose space, allowing for unobstructed breathing.
This minimally invasive treatment method causes less pain than similar procedures used for upper airway obstruction.
Somnoplasty is an outpatient procedure that relies on low levels of radiofrequency heat energy to shrink tissue. The patient is given a local anesthetic, and the entire procedure takes only 30 to 45 minutes. A thin, needle-like electrode is used to create lesions beneath the lining of the soft tissues in the throat. The body reabsorbs the lesions during the healing process, which takes from three to eight weeks.
The procedure is considered a safe and effective treatment with fewer side effects and less risk of complication than many other procedures used to treat sleep disorders. Because a lower temperature is used and delivery of the radiofrequency energy is precisely controlled, there is considerably less pain involved, and the patient benefits from a quicker recovery time.
Side effects such as swelling and discomfort are common but short-lived, typically lasting no more than a few days. More serious complications such as pain, infection, bleeding and changes in the voice are rare. Patients may be monitored overnight, but can usually return to their normal routines the next day.
More than one treatment may be needed for best results.
Call Midwest Ear, Nose and Throat Head & Neck Surgery at (270) 691-6161 for more information or to schedule an appointment.